My Parakeets PVC Playgyms
I finally got new batteries for my Digital Camera, but for some reason the batteries will not hold a charge very long. They did stay charged long enough to get a couple of pics of 2 of my
Parakeets
PVC Playgyms.
This pic is not a very good pic, but you can see the unfinished playstand I'm building for my
Parakeets
. Before I got finished with it, they were already wanting to play on it. I let them sit on it for a few minutes, and now can't keep them off of it to get it finished, but I will post an finished pic of it soon.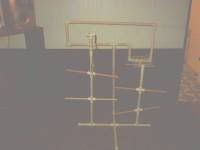 Full Size Pic of PVC Playstand
Click Here To View Full Size Pic
This next pic, is a small playgym I built for my
Parakeets
, which did have a rope toy, and ladder, but the ladder got broke and the rope toy wore out. Either way the playgym isn't very small, it's 30 inches long, 16 inches tall, 13 inches deep. I line the bottom of the playgym with paper towels, and have it setting on old table chairs. I put plain black and white news paper under the chairs to keep mess off the floor. I use a water bowl to put their water in, and a small plate to put their seeds in. In the small resized pick you can't really see my
Parakeets
in the pic, but you can see them in the full size pic.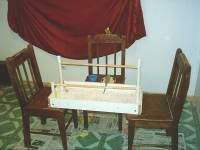 Full Size Pic of Playgym and My
Parakeets
Click Here To View Full Size Pic